In many cities, the idea of bike couriers is becoming increasingly popular. How useful are they for deliveries? But Copenhagen has proved that they are as effective as to cars for delivery, even for larger items such as TVs and computers.
The cargo bike is a bicycle designed to carry goods. You might be surprised at how well these bikes can handle it. The best part is that in cities with bike lanes, cargo bikes are usually a faster way to get around.
Origins of Cargo bikes
Cargo bikes originated in the Netherlands in the late 19th century and before the development of the automobile and were often used by tradesmen such as milkmen and bakers who needed a simple and efficient way to transport their goods. By the 1930s, most companies in Denmark were using cargo bikes to solve their logistics problems. Fast forward to today and it's not uncommon to see delivery men riding down busy city streets, carefully securing someone's meal on their bike, or postmen delivering this month's bag of dog food.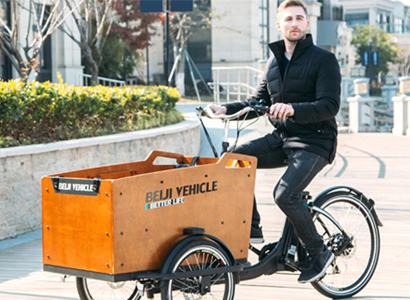 E-Cargo Bike
Why should I get a cargo bike?
A cargo bike allows you to do everything you can do on a bike, but its robustness means you can haul more without dropping everything and leaving everyone off balance. The most powerful bikes carry up to several hundred pounds. (Check bike specs for maximum carrying capacity.) Families use them to haul their children (and all their belongings) to school, parks, and other places nearby; they are versatile because you can carry a smaller child and a larger child at the same time. Cyclists choose them as an easy, environmentally friendly, and fun way to get around town without the hassle of finding a parking space. For more information, read our page.
Different types of cargo bikes
There are three popular types of cargo bikes.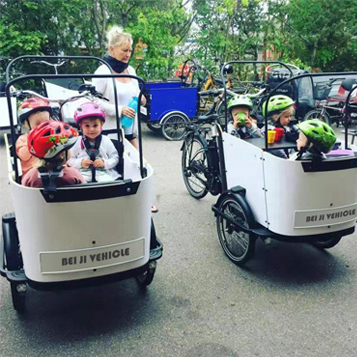 Cargo Bike
Mid-tail bikes: These compact utility bikes are shorter than long-tail bikes. Some are roughly the same length as a standard bicycle but have better traction capacity. They are easier to store, transport, and handle; some fold up. They may not be able to handle more than one child, so may not be as versatile for large families.
Front-loading cargo bikes (sometimes called bakfiets, Dutch for 'box bikes') allow you to carry goods in a box or container that sits low in the space between the handlebars and the front wheel. Families like these bikes because they can put their children and pets in the front where they can look after them and conversations are often easier. Riding them takes some practice, but they are very easy to maneuver.
Beijivehicle is professional and well-experienced in designing and producing electric cargo bikes. Trading for E-bikes and related parts is also our main business. Keeping providing better products and services to customers is our duty. The company is investing a large amount of money every year to develop new products and technology. In addition, we are willing to do customized product designs for your own demand. Welcome to contact us today or request a quote.
To have a happy, active, and green life, Beijivehicle is your best choice!