Thanks to the coffee bike's self-sufficient mode of operation, coffee lovers can indulge in the best hot drinks in the most unusual places; whether in weekly markets, on street corners, in parks, or booked specifically for catering and events. The mobile coffee bar catches the eye.
Coffee-Bike is a mobile coffee shop, creating a similar atmosphere to a mobile bike pub. Beijivehicle coffee trike uses a new design concept, it is not only used to sell coffee, but Beijivehicle coffee bike can also sell drinks, fruit, flower, hot dog, and so on. It provides the right place for what they want in the location they want it.
Coffee-Bike is the perfect full-value mobile coffee shop with small space requirements and unbeatable low investment costs.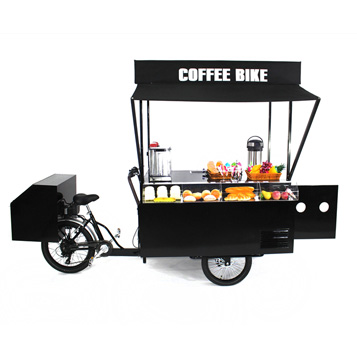 Coffee Bike
How to start a coffee cart business?
So you've been thinking about starting a coffee cart business, but you're not sure where to start? We know straight away that setting it up can be challenging, but those who get things right can reap huge profits. So the purpose of this article is: to provide you with some useful insight into what it takes to successfully launch your mobile coffee shop business.
We have developed general advice that you should consider before you get started. However, as each coffee cart business and its particularities will be different from the next, these recommendations and their implementation will also vary from situation to situation. We are therefore confident that you will be able to use what is relevant to you and ignore what is not and focus on developing your specific coffee cart business plan.
But first, let's dig a little deeper into the opportunities and the advantages of this venture.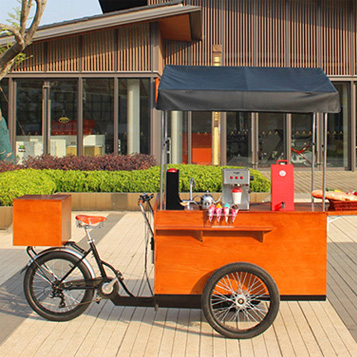 Coffee Bike
The opportunities of the coffee cart business
Essentially, a mobile coffee business consists of a mobile coffee stand with a coffee machine and other necessary equipment. This is a great alternative to opening a physical coffee shop, as your set-up costs are much lower, there is no rent and, most importantly, you have the flexibility to move around.
As almost everyone drinks coffee, coffee shop carts are an excellent business opportunity in both small towns and big cities. This is mainly because, similar to hot dog carts, mobile coffee stands cater to people on the move, a promising demographic considering that most of us spend 70% of our time outside.
If most people have a daily budget dedicated to meeting their needs, then surely that includes a daily coffee on the go. Stopping by a coffee cart on the way to work or at lunch for an espresso or latte is something they can splurge on, even if they are keeping a close eye on their expenses.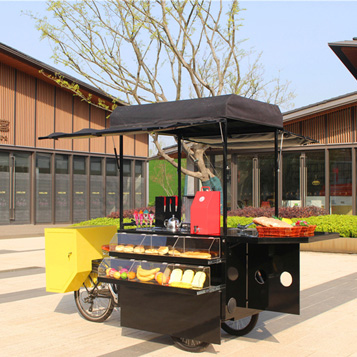 Coffee Bike

Key advantages of a coffee cart business
- Low start-up costs: even on a tight budget, you can start a mobile coffee business.
- Coffee is a growing trend: the coffee business is growing and many coffee connoisseurs will be abandoning the tasteless vending machine coffee in favor of high-quality coffee. This will only continue.
- Huge margins: coffee offers a staggering 90% gross margin, which has attracted large companies to expand at such a rapid rate. Few other products can match this, which means you have the potential to make a lot of money.
- Flexibility: many people run mobile coffee van businesses to suit their lifestyle. Others choose to make a career of it, running a day job in a city center or retail park. The best part is that this coffee stand business can be done part-time, outside of clubs on evenings or weekends, at various events around the country. Overall, the coffee cart business is very flexible.
If you want to get more information about the coffee cart business for sale, welcome to contact us today or request a quote.