Cargo bicycles were made for "carrying". Cargo bikes originated in the Netherlands in the early 20th century and were first used to deliver newspapers, milk and bread, and other local deliveries. In European countries such as Denmark and the Netherlands, cargo bicycles are an important partner in the daily lives of local people. In addition to "carrying goods", it has also developed the use of "carrying children".

One of the most important scenarios for cargo bikes is family travel. It is very family and child friendly, with many accessories and kits designed for this purpose, and can meet the needs of traveling with children and various supplies. Before cargo bikes, families with many children who wanted to travel short and medium distances had limited options: buy a car, or get their hands dirty and take public transportation.
As evidenced by the love of children (and some adults) for supermarket carts, humans cannot resist the appeal of this open-top, accelerated mode of transportation. A convertible-like ride is naturally more popular with kids than sitting in the back seat of a boring car.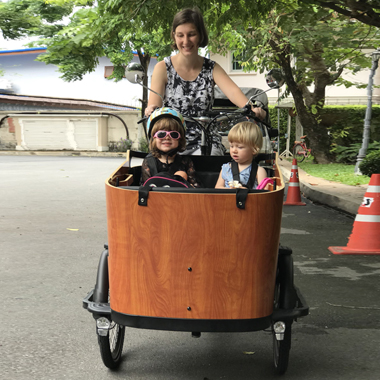 Family Cargo Bike
The "Long-Tail/Mid-Tail" bicycle is an enhanced version of the "messenger bike" that we can still imagine. The "tail" is longer than a regular bike, so it allows a lot more room for accessories, from pedals, to guard rails, handrails, and even a storm shelter, so you can add as many accessories as you need.
If you're not comfortable with a quiet child behind you, perhaps a "cargo front type" (Long Johns/Bakfiets/Box Bikes) is a safer option.
For two-wheeled bikes, the size of the cargo box does not exceed the width of the long board too much in order to maintain balance. So, if it is a multi-child family, maybe this "three-wheeled front type" (Cargo Tricycles/Cycle Rickshaws) will be more suitable.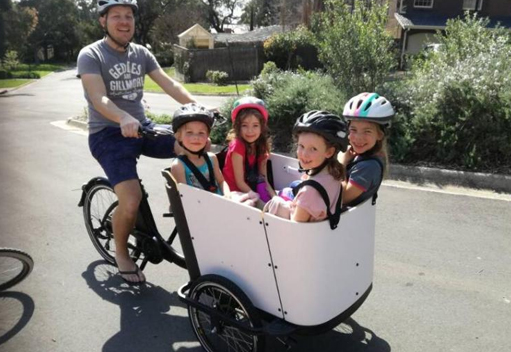 Family Cargo Bike
Not only to take their own children, friends in the community can also go to the park together to open the field day. Due to the larger load, these cars are usually paired with electric drive, and the price will be higher. At the same time, due to the large footprint, and even to consider the parking space.
Cargo bikes were first used for commercial purposes, to sell and distribute goods, such as delivering newspapers. Now, some people are also using cargo bikes to start their own small businesses, such as a "flash" bakery.
Many courier companies are also using them to deliver goods in a similar way. (The advantages of electric cargo bikes are significant: they carry a lot of weight, are small, are more flexible, and don't have to worry about parking spaces or tickets. Similarly, some companies selling bulky goods (e.g. furniture), supermarkets, etc., can use cargo bikes to provide goods delivery or bike rental services to broaden their business scope.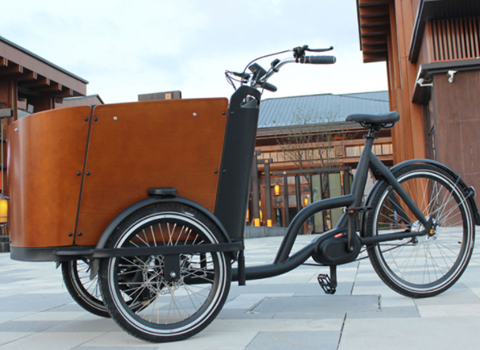 Electric Cargo Bike
The "Product involvement" of cargo bikes as a commodity is quite high. While the concept of involvement focuses on pre-purchase considerations (high involvement - more cautious, low involvement - more discretionary), for cargo bikes, high consumer involvement can extend to all aspects of the post-purchase process.
High involvement also means the possibility of a "Cargo Bike Club" similar to that of car enthusiasts. Exchanging intelligence and information on the latest models, researching modifications, and even meeting families of car enthusiasts to go on trips together ......
Cargo bikes have become more than a commodity; they have gradually become an urban culture and lifestyle.
In addition to famous bike-friendly cities like Copenhagen and Amsterdam, some European cities like London, Vienna and Berlin, as well as North American cities like New York and Vancouver have also seen a wave of cargo bike popularity.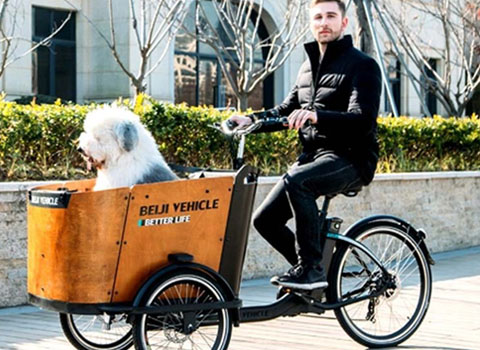 Cargo Bike
In addition to being popular at the individual and household level, bicycles are also seen as a new solution to urban challenges such as air pollution and traffic jams from a city-building perspective.
Among them, e-cargo bikes are particularly popular. According to City Changer Cargo Bike's European Cargo Bike Industry Report released last November, the cargo bike market in Europe is expected to grow by 38.4% in 2020 and 65.9% in 2021.
Faced with the surge in demand for home deliveries during the new crown epidemic, and the need to address urban issues such as reducing carbon emissions and easing urban traffic pressure, the flexibility, environmental friendliness and efficiency of electric cargo trikes may make it a new form of urban freight transport.
Studies have shown that delivery with electric cargo bikes is 60% faster and can reduce carbon emissions by about 90% compared to trucks.
Contact Beijivehicle for more details on the cargo bikes and order the one that best suits your requirements.