When luxury food trucks became popular a few years ago, those who operated them praised their traveling businesses as cheaper and easier to promote than brick-and-mortar restaurants. Now, entrepreneurs are discovering the advantages of food bikes.
Brewers, chefs, bartenders, and even farmers are turning to pedal carts to bring their products to consumers, sometimes even producing them on the road. Practical and easy to operate, mobile food carts are spreading around the world as a viable, more convenient option for brick-and-mortar businesses.
This guide covers some of the most important aspects of choosing the right food cart for your business.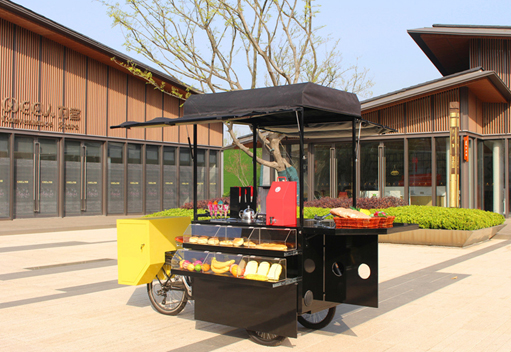 Fashion Coffee Bike
But first, consider this. Is a food cart the solution you're looking for?
If you are
An entrepreneur ready to launch a street food business, whether it's specialty coffee, ice cream, pastries, or hot dogs.
A passionate bartender or an experienced chef looking for a practical and easy way to organize events.
A business owner who wants to use your company's mobile devices, such as a cafe or bistro.
Someone who runs a restaurant, hotel, or institution such as a museum or theater is looking for the perfect addition to further entertain their guests (and generate additional revenue).
Therefore, a food truck would be the best and cheapest way to achieve this goal.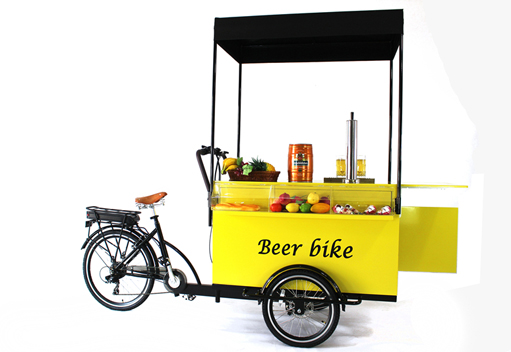 Beer Bike
Now let's look at the most important factors that will serve as the basis for the decision.
Things to consider when buying food carts for sale
1. Budget
When you start looking at your options, you'll probably have a budget: this is important because it can help you narrow down your choices from the start.
That said, there are two things you need to be aware of.
Cheap isn't always good, because cheap food carts can be more expensive in the long run in terms of both maintenance and complete replacement.
Budget for all forklift costs, from equipment and accessories to optional features that may prove useful, or even necessary, during the start-up of your mobile business.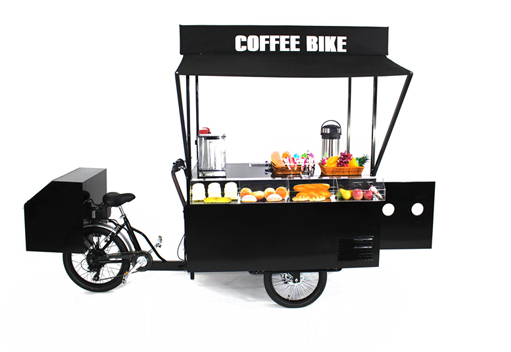 Modern Coffee Bike
2. Size
Size is another important factor to consider when choosing a food cart. You need to make sure that the work surface, counter layout, and storage capacity match the activity you have in mind, as there is no way to change them after purchase.
For pre-packaged items, food, and beverages such as crepes or coffee, even a small food cart will suffice, especially for tastings or transactions that must take place indoors in a short period of time.
For foods that require more ingredients, flavorings, and more complex preparation methods - and therefore a larger work surface and more storage space - a large food cart would be ideal.
However, large food carts are usually the preferred solution for most companies. They provide optimal work and storage space, and their layout on the workbench is designed to ensure a smooth workflow at all times.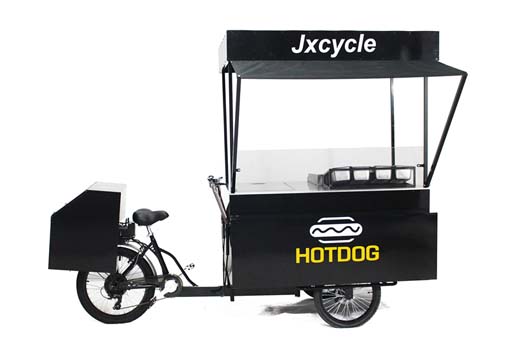 Hot Dog Bike
3. Business Plan
Before investing in a street food cart and assessing whether this lifestyle is really for you, it is important to have a business plan.
This can include a basic calculation of variable costs (parts purchased or paid to associates, maintenance costs, cost of buying space at fairs or events, travel costs, taxes), and a possible average revenue, followed by a profit to estimate how long it will take to amortize the investment in the tricycle.
To estimate the average daily income, visit various street food fairs and events and try to observe the street food stalls, and calculate the sales volume over a certain period of time. Try to make calculations based on sales prices. This exercise is already useful and you may find that a seemingly insignificant event turns out to be better than you thought.
At this point, you may have a clearer picture of the problem. You can now come up with your own ideas and if you think you might be interested, please visit our website https://www.beijivehicle.com, which contains all the street food bikes and ice cream carts we can make.
Whether your goal is to start a street food business or increase sales, the right food cart will take you from investment to profitability in no time.
Contact us today by clicking here to place an order for your food cart for your best deal.