When upscale food trucks became hugely popular a few years ago, the people who ran them praised their rolling business as cheaper and easier to start than brick-and-mortar restaurants. Now, entrepreneurs are finding similar advantages in food bikes.
Brewers, chefs, baristas, and even farmers are turning to pedal-powered vehicles to bring their wares to consumers - and sometimes, they're actually produced on the street.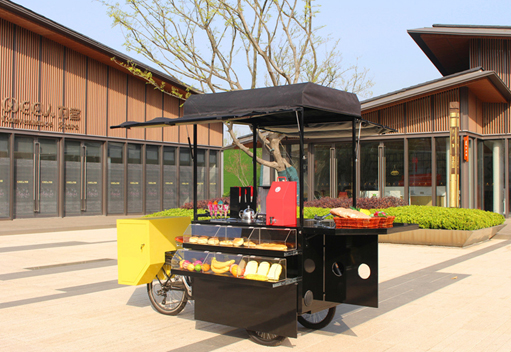 Fashion Coffee Bike
It is said that to be successful you must be able to answer 6 questions.
Who? (For example, are you going to work personally or delegate to a collaborator? Or are you going to create a franchise?)
What? (For example, what do I not want to sell? Which products? (What do you want to achieve?)
How? (How do you want to prepare the products to be sold? Do you want cooked food or live cooking? How would you like to prepare the tricycle? (How many hours of battery life do you need?)
Where? (Where are you planning to hold your event? A fair? In a park? At sea? Where will you place your trolley, where there is a 220V power plug?)
When? (When do you want to carry out your activity? During the day or at night? (When would you like to start?)
Why? (Do I want to create a job for myself? I want to rent my tricycle to someone? Why do I want to make this choice? etc.)
It is important to be clear about all these aspects of the project, to answer all these questions, and make the right choice from the start.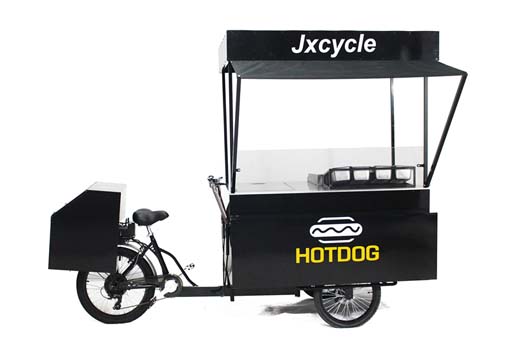 Hot Dog Bike
Advantages of a Food Bike Business
There are many advantages to starting your own food cart business, which is why a lot of people choose to do just that. The PROs include:
Food bikes are the low capital, and low footprint alternative to food trucks, bringing positive economic and community development.

Food bikes can offer these benefits to local communities:

Decrease fossil fuel consumption and climate change emissions

Improve use of community space

Increase physical well-being and health and foster awareness about the power of bicycles

Increase awareness about where food comes from and how it is prepared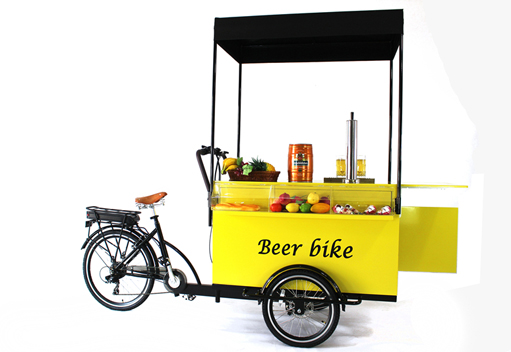 Beer Bike
Food bikes promote interaction between chefs and eaters. The experience will be more similar to a "street food" experience, where the cooking is done on the street level as opposed to hidden inside a vehicle. People are generally very curious to watch this process and learn from it. To the extent possible, food bikes could be incorporated into food from local and urban farms, while helping to advertise those products with signage on the side of the food bicycles.
The Food Bikery will harness the positive aspects that food carts foster (economic opportunity and community space) while minimizing harmful environmental impacts, increasing knowledge about food, and demonstrating the utility of bicycles.
If you are passionate about good food and you start with a solid and well-researched plan, there is every chance you could make a roaring success of your food cart start-up.
If you want to get more information about the food cart business, welcome to contact us today or request a quote.