Light and Handy: In recent years, the popularity of e-bikes has grown in most metropolitan cities. E-bikes are the perfect vehicle for couriers and food delivery workers as they are perfectly suited for navigating narrow city streets without sacrificing delivery speed or load capacity.
High Speed: With an electric bike you can make more orders in less time than with a classic bike. An electric bike can travel the city streets. at 40% faster speed than a standard bike. This means that if the average delivery time with the standard bike is 20 minutes, with an e-bike you would save about 8 minutes per trip allowing you to make more deliveries in less time.
Long Range: Combined with the improvement of lithium-ion batteries, the mileage has also increased dramatically, making e-bikes more affordable and effective for all types of urban deliveries.
Great Flexibility: If, while you are on your way to deliver a package speeding through city traffic, you receive a collection notification that is not too far from the first customer, with your bike you can easily make a few small detours and whiz through shortcuts and alleys and complete both orders.
Environmental Benefits: Using an electric bike rather than a car you will drastically cut CO2 emissions and reduces dependency on fossil fuels. For further information, please contact us.
Market Research:Before you start a business, you should first conduct a thorough market research. You need to look at whether there are competitors doing the same business around; the level of consumption around, the flow of people, whether the transportation is convenient, etc. This is very important.
Purchase food truck equipment:Before you start, you need to check what machines you need, you need to order them.
Create your menu:The menu is very important. In your menu need show some featured products and some promotional products.
Order a street food truck:A functional and nice street food truck can help your business a lot. You need to find a good supplier to customize the street food cart.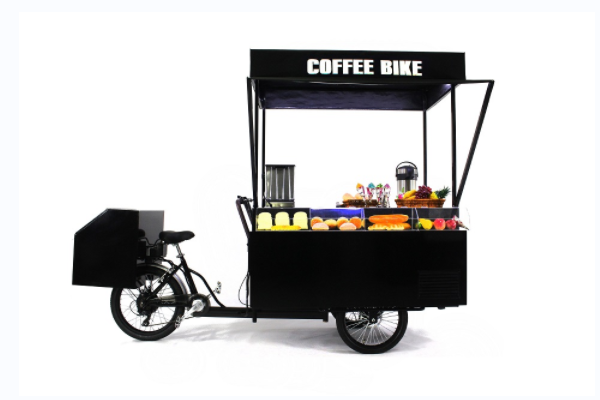 The Advantages Of A Street Food Cart
Low start-up cost
If you want to try a small business and don't want to invest a lot of money. Then the mobile cart must be your first choice. You can open in a variety of places outdoors, without expensive rent, management fees, or renovations. You just need to buy a food cart, buy some necessary equipment, and one person can start your business.
Huge Profit Margins
You can put your food cart where have a lot of people pass by, such as street,outside of shopping malls. On your menu, you can write a favorable price and do some promotion, this way can enlarge your sale. Because cost is very small, so you can earn money very soon.
Flexible and mobile
If you opened a retail coffee shop, the location is not good, it will affect your business a lot. If you open a street food cart will be quite different. The locations which can choose are very flexible and widely. If the location not good, you can move to another place.
Easy to maintain
If you always use the food cart outdoor, you can choose stainless steel or fiberglass street food stands. They are very durable and easy to maintain.