The expansion of car-free urban areas and public spaces is increasing as the rising trend of cities becomes more pedestrian and bicycle-friendly. Pavements and ample bike lanes are becoming the new normal for urban development.
This new trend is a turnaround for small business owners! Imagine a whole new form of pedestrian traffic. A very different form of pedestrian transport. A surge in foot traffic encourages people to stay in the city center and public park areas.
The average European buys around 9 kg of ice cream per year. In addition, the average American buys 22 pounds of ice cream per year. The ice cream industry produces over 870 million gallons of ice cream each year. The demand for ice cream is so high that it generates over $5 billion in revenue each year.
Ice Cream Cart
What types of ice cream?
Pre-packaged ice creams are the easiest type of ice cream to sell. They are also known as novelties. It reduces food handling problems and makes it easier to manage inventory. However, if you sell soft serve or scooped ice cream, you will have higher revenue potential. In addition, you can choose from other types of ice cream and ice cream products that you can sell. You can also make handmade ice cream sandwiches and give your customers a choice of biscuits and ice cream.
The Importance of Location
You have to look for a good place to set up for the day when your ice cream cart business has no permanent location. You have to consider the factors such as if other food trucks or carts are already competing for business and the prime hours for customers in that location. Office parks, shopping malls, sports venues, beaches, college campuses, festivals, and business districts are proven places for your business.
Ice cream bike
Beijivehicle builds and sells popsicle and ice cream bikes! The perfect low-overhead, environmentally sustainable, carbon-neutral, mobile ice cream business solution. We have a passion for ice cream bikes!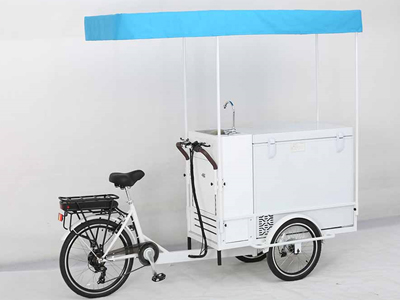 Ice Cream Bike
Ice Cream and Popsicle Bikes are ideal for catering events with cold treats. Ride in and hand out icy snacks at weddings, birthdays, family reunions, company team-building exercises, or private parties in style! Or just roll out wherever you feel someone might be in need of a cool treat!
With a Popsicle or Ice Cream Bike, you've got an ice cream cart business that can be anywhere at any time, and without any fuel costs. Pedal-powered economic magic! Ice cream bike also makes you stronger. Strengthen your leg muscles, tone your abs, and exercise your motor skills – all while making money! A perfect mobile ice cream bicycle business for farmers' markets, sporting events, tailgate parties, or public parks. Contact us today to get your mobile ice cream bike business rolling!
Be your own boss with an Icicle Tricycle Ice Cream or Popsicle Bike! Contact us to roll out your new popsicle or ice cream bicycle. In addition to our standard models, we also offer custom builds, custom graphics, and frame colors. Your color, your style, your logo! We love to make custom trikes that are memorable & experiential!
Be your own business, your own boss, and get the bike you really want. Own an Icicle Tricycles machine. Your creativity is our limit! We offer a variety of custom graphic options to suit just about any design need. Contact us with any questions about your ice cream bike business needs, big or small! We are happy to share our ice cream cart business plan advice!