The income of ice cream cart owners varies widely based on a variety of circumstances. Market, sales volume, product profitability, as well as seasonality, and climate are all factors that affect earning potential. The number of hours and days worked also factor into this equation. Few sources report the income of ice cream cart owners, but doing some simple math can reveal the potential of this industry.

Market Impact on Revenue
Seasonality is a major market influence for ice cream cart owners. Ice cream is relatively cheap, which means most markets are open for business. Almost every income level is likely to spend a few dollars on an ice cream sandwich. That said, some markets are stronger than others.
Communities with young families and children are particularly attractive to ice cream carts. Areas with local events such as summer baseball leagues, outdoor concerts, and local gatherings also create a stronger market. A quiet town with few events is a limited market. Events are often a major sales opportunity for ice cream bikes and other food bike suppliers.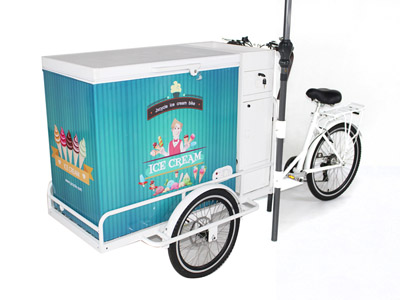 Ice Cream Cart
Overhead and Operating Costs
The overhead and operating costs of an ice cream cart can affect profitability. The cart itself is an asset, and the cost of the ice cream cart will not affect the day-to-day profitability model beyond the initial purchase.
However, the fuel and maintenance of the ice cream cart will impact profitability. If you travel long distances every day to reach profitable areas, the cost of fuel will cut your profits. Maintenance costs will also increase, and any mechanical repairs, as well as tire and parts, wear and tear will affect your annual revenue. Electricity is also needed to run the freezer at night.
Overall, the overhead of purchasing a vehicle is minimal. Purchasing the ice cream itself, fueling the vehicle, and purchasing insurance on a quarterly or monthly basis define normal operating costs. Buying products in bulk and storing them in home freezers helps reduce costs while increasing profits. This strategy is best suited for high-turnover businesses that operate close to full-time.
Beiji Ice Cream Tricycles takes pride in our craftsmanship, with a strict build protocol to ensure a safe, properly operational, and easy-to-ride ice cream bike. Sell your product with the security of our Tricycles cargo bike build as the foundation for your ice cream business.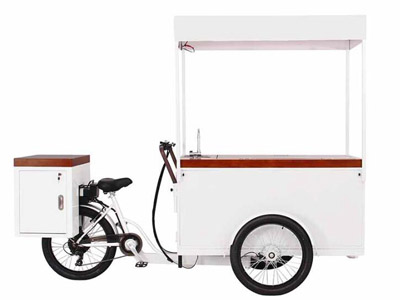 Ice Cream Tricycles

Profit Margins for Ice Cream
Your products typically have a margin of 50% or more. If you buy a box of ice cream sandwiches for sale and sell them for 50 cents each, you can turn around and sell them for $1. Some products are more expensive, while others are very cheap.
Using scoops with bulk ice cream boxes can also have a significant marginal increase. Consider limiting the available flavors when purchasing larger cases to avoid inefficiencies.
Equipped with a heavier duty and Powerful Temperature-Controlled Freezer attached to the bike, environmentally friendly with its all-new Solar Panel feature designed. Heavier duty frames and Wheels for better stability and durability make a bike that cannot be beaten, amazing new features enjoyed by clients from EU/USA/Other places.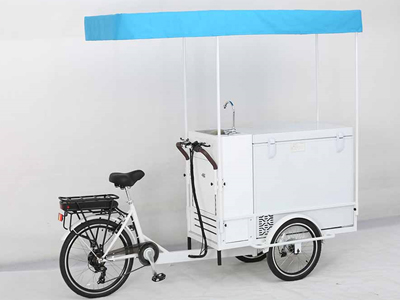 Ice Cream Bike
In this model, sales of single and double scoop cones can exceed 100%. A normal summer day can bring in $200 to $500 in sales, and you can effectively cut your gross revenue in half to get an average estimated daily net profit. If you sell $300 of product 5 days a week, this would result in a gross profit of $1,500 or a net profit of $750 per week. Multiply this by the number of weeks of operation per year to estimate your annual revenue.
Ready to start an ice cream cart business?
Starting an ice cream cart business is an excellent choice for entrepreneurs who want to build a business that doesn't require a lot of start-up capital. Once you're the ice cream bike supplier in town, consider buying a second ice cream cart and opening up new routes to grow your ice cream empire. Eager to start your ice cream bike business?
Contact us at +86 15850782514 or write to us at info@beijivehicle.com. We will be happy to help you out!